Sixpel 13A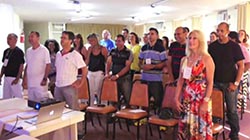 click on the picture to
watch the video
Thirty years training people from various market segments and different professional positions, always focusing on Behavior and Communication.
A Coach that works in Brazil and internationally with the same objective:
Best results in Behaviour to get the best in Productivity and Sales.
To reach this, Fabio Nemer works in a different way, investigating the costumer company, its employees, leaders and partners, besides its specific Market, always before each Lecturer, Workshop, Conference or Training Program or Course.
Through this way of customizing each Product, the Costumers get the most important goals they  expect for their companies – the growth of the quality of Interpersonal Relationship and also the best results in Sales.